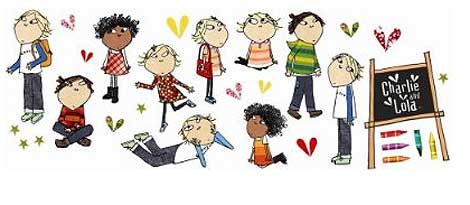 I am completely ready to tell you about these Charlie and Lola wall stickers now
I really like Charlie and Lola and have been known, on the odd occasion, to watch it when I'm all by myself!
I think it's because I long for my own children to get on as well as Charlie and Lola do - I tell you, that boy has the patience and tolerance of a saint! Although it does help that Lola's small and very funny.
I've also become quite a fan of wall stickers. I don't remember seeing any when the Teenagers were small, mind you back then it was all dado rails and wallpaper borders - it was THE decorating thing of the decade along with ragging, rolling and sponging!
Anyway, I was at Tamsin's a little while ago and her daughter's room is decorated with Gruffalo wall stickers and they are AMAZING!
I have no doubt that these Charlie and Lola wall stickers will be just as fab. They're self-adhesive so just stick them wherever you want them on the wall, and if you change your mind...simply peel them off and move them!
PinkMilk have cut the price of these in half, reducing them from £10.99 down to £5.49 and standard delivery is just £1.99.
Thanks to Mariposa over at HUKD!