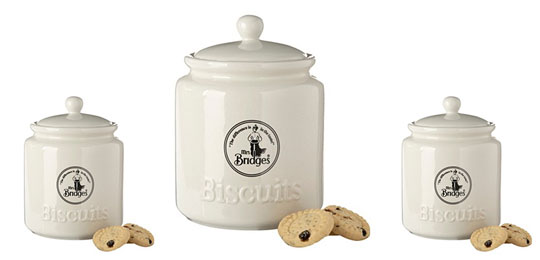 If you're in the market for a ceramic biscuit barrel then you might want to pop over to Debenhams - you can pick up a Mrs Bridges ceramic biscuit barrel (complete with a packet of biscuits, can't be bad!) for just £4.80 instead of the its original £12.
There are a few things I like my kitchen to have: a nice bread bin, a decent cafetiere, shiny pots and pans, an efficient kettle and an elegant ceramic biscuit barrel - and by elegant I mean NOT novelty!  I don't want it to 'moo' at me when I open it, or tell me I 'shouldn't be having one of those biscuits actually!'
It's not dishwasher safe, so you'll need to wash it by hand, and measures 21cm high with a 15cm diameter.  The biscuits that come in the Mrs Bridges ceramic biscuit barrel (I have no idea who she is, but I do like her biscuit barrel) are fruit and lemon flavour and will need to be eaten before April 2012 which really isn't that far away!
The price on the Debenhams website is £6 - just add code TH96 to take 20% off and drop it down to £4.80.
You can either collect your ceramic biscuit barrel in-store for free or add code SHD1 and get free standard home delivery.
Thanks to daisymeisha10 at HUKD