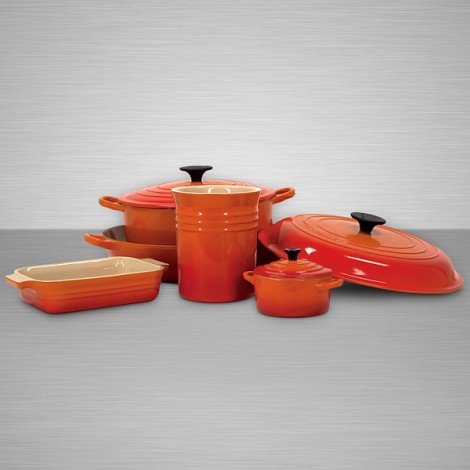 John Lewis has marked down selected Le Creuset items by 25 percent making this a very nice deal for anyone with a taste for this scrummy brand and in need of updating their kitchen. Le Creuset can be quite costly so this is a good place to nab some items at a discount.
Items included in the Le Creuset sale are the range in Coastal Blue that include the  petite round casserole dish, the frypanthe Oval Casseroles, the Round Casseroles,  square grill, shallow casserole, rectangle grill, and the omelette pan. Note that the prices here are before the 25% has come off.
You will find casserole dishes also available in Midnight Blue, Cassis, Blue and Volcanic. The Le Creuset fry pans are also in a variety of colours, as are the Le Creuset rectangle grills and square grills.
I utterly love the Volcanic colour, that orangey red literally explodes onto your retinas. If you wake up feeling miserable and blue and whip out the Le Creuset frypan in that colour you will definitely cheer up. I am positive of that.
Thanks to cheerful10 at HUKD!