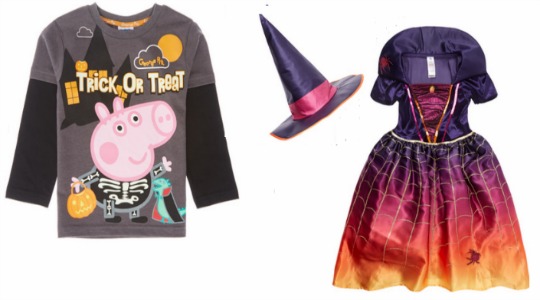 Edited to add, we had originally posted this as a Halloween blog but one of our insiders have been in touch to let us know that the 25% off ALL TU Clothing starts on Tuesday (27th) If you can wait you'll be able to save another 25% off these prices!
It's not long until Halloween. Have you got everything you need for your children to go 'Trick or Treating'? If not then it's worth a look over at TU Clothing by Sainsbury's. There selection of Halloween Clothes and Costumes is terrific. Spooky items only start from £1.50 and those fancy dress costumes are in accordance with British Nightwear Flammability Testing Standards. What more could you ask for?
Finding a costume that your child wants to wear and that the school will allow can be a tricky business. Here are some that we think are cool: Spellbound Spider Witch* from £10, Spooktacular Pumpkin Outfit* from £10 and Boo-tiful Bat Costume* from £8.
My son is a massive Peppa Pig fan and I know he would go daft for this 'Trick or Treat' George Pig Top*. It's priced from £7 and is ideal for little ones who aren't too comfortable in Fancy Dress. These Black Cat Leggings*from £5 are also good for those not wanting to go too spooky.
You can Click and Collect your TU Clothing Children's Halloween items for FREE from a Sainsbury's near you or pay £3.95 to have them delivered to your front door.