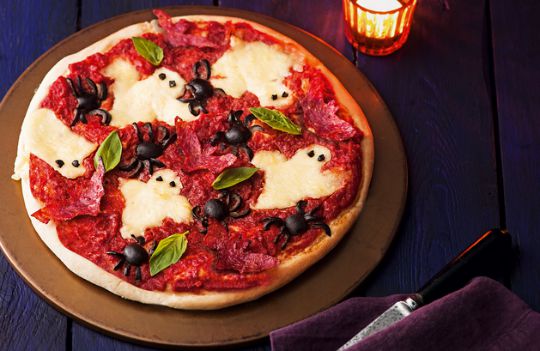 I've been looking around for different ideas for Halloween as it's a big thing in our house and we make the fun last for the whole half term. I found this recipe for Haunted Halloween Pizza on the Tesco Real Food website, and it looks so good that this is a definite on my Halloween list!
Although they give instructions to make it from a pizza base mix you could always use a ready made pizza base or indeed make your own from scratch should you wish.
These ideas can be adapted really easily to suit your family, and you could always just do the salami bats and the olive spiders and put them on a ready made pizza too.
I just love this idea, and even if I don't follow it exactly it has given me some ideas. Here's the recipe from Tesco Real Food:
Ingredients:
200ml (1/3oz) passata
1 tbsp olive oil
1 x 145g pack pizza base mix
4 salami slices, cut into bat shapes
7 pitted black olives, halved
125g (4oz) ball mozzarella, torn into pieces
Preheat the oven to gas 7, 220°C, fan 200°C. Put the passata and olive oil in a pan and bring to the boil. Reduce the heat and simmer for 5 minutes, or until thickened.
Empty the pizza base mix into a bowl and stir in 100ml (3 1/2fl oz) warm water. Mix to a soft dough, then tip out onto a lightly floured surface and knead for 5 minutes, or until smooth. Roll out the dough to roughly 24cm (9 1/2in) in diameter. Transfer to a large, greased baking sheet and turn up the edge of the base for a crust. Leave to stand in a warm place for 10 minutes.
Meanwhile, thinly slice 8 olive halves lengthways into 4 to make 32 legs for the spider (each spider has eight). Dice two more olive halves to make eyes for the mozzarella ghosts.
Spread the passata over the base, allowing a 1cm (1/2in) border. Top
 with the salami and arrange the torn mozzarella in ghost shapes (with room to spread). Position the remaining olives, cut-side down, and arrange 4 spidery legs on either side.
Cook the pizza for 15-18 minutes, until bubbling and golden. Remove from the oven and leave to cool for
 1 minute, before adding the reserved olive eyes to each melted mozzarella ghost. Serve immediately.
(Image Tesco)