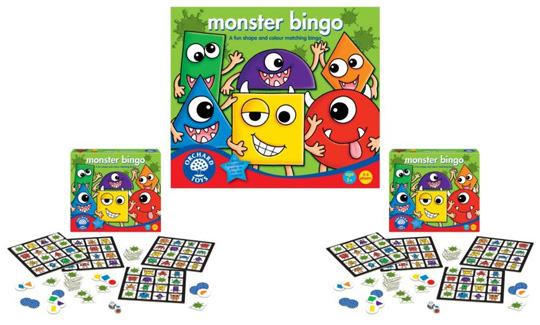 Morning!  Sainsbury's are selling this Orchard Toys Monster Bingo for £7.49 instead of £9.99 - only a little discount, but a little discount all the same!
Now listen, if I tell you something you have to promise not to tell anyone else...okay?  PROMISE?!  I am a secret bingo fan!!
I've never been to a bingo hall to play bingo, but my nan and granddad took the whole family away years and years ago (I was 14, that's how many years ago it was!) and one of the scheduled events was...BINGO!   My mum actually won that evening and it was rather fun.
So whilst I wouldn't be seen dead setting foot inside a Gala Bingo place (or playing on line with Babs Windsor for that matter!), I'm rather partial to bingo games like this Orchard Toys Monster Bingo.
Using bingo principles, your youngster will get to grips with shapes and colours whilst having a fair bit of fun at the same time - you could also use it to help develop early counting skills too.  The target age range is three years and over and between two and four players can play at once.
You can arrange to collect your Orchard Toys Monster Bingo in-store for free; standard delivery will take between three and five working days, will set you back £3.95 and the sale price is valid until 29 January.
HOUSE!