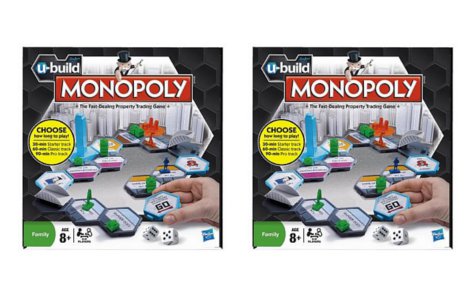 Debenhams have a nice deal on the Monopoly U-Build board game at the moment.
I refuse to play Monopoly. I'm a very bad loser when it comes to money and property, even if I'm allowed to be the boot.
It doesn't matter what strategy I employ - go for lots of the cheaper properties, or save up and stick a load of hotels on Park Lane and Mayfair - I always end up losing!
However, if YOU are a Monopoly fan then you might like this new version and you'll definitely like the price - it's at least £15 everywhere else at the moment.
I have no idea how you play it, so here's what the official blurb says:
Monopoly U-Build has flexible game play, where you choose which track to build and how long you want to play! With all the great sabotage of Monopoly City-build a prison or a dump on your opponents property!
My not-so-nice side is rather liking the sound of being able to build prisons or rubbish dumps on opponents properties...but not enough to make me want to play Monopoly again.
The published price on the Debenhams website for Monopoly U-Build is £7.50 - to get the price down to £6.75, and get free delivery too, you'll need to add the following codes to your basket before you checkout: PX8P and SHD1
Thanks to bitsnbobsbuyer at HUKD