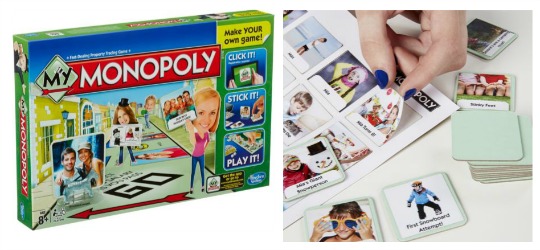 This time of year is for socialising, getting the family together and enjoying each others company. Sometimes, it's nice to get the party started with a game. This My Monopoly game is just the ticket and is only £6.59 from Amazon. Think New Years Day, and the hilarity that a board game can create, especially if the adults have had a drink. Lisa, blogged about this recently and it looks like Amazon have matched the price to that of Argos.
My Monopoly is a twist on the original classic game. It aims to involved the family even more and in fact takes it to a whole new level. You can add photos and places that actually mean something to the family. With the use of the FREE Monopoly App you can print out your own stickers to make tokens, streets, chance cards and community chest cards.
This game is suitable for children aged eight years old and above and can accommodate two to four players. You have just got to have a board game to play at this time of year. This is certainly one to consider.
To get FREE Super Saver delivery from Amazon, you will need to add something that costs £3.41+ like this Bullyland Daisy Duck Figure*.