Get Knotted £35.36 @ Amazon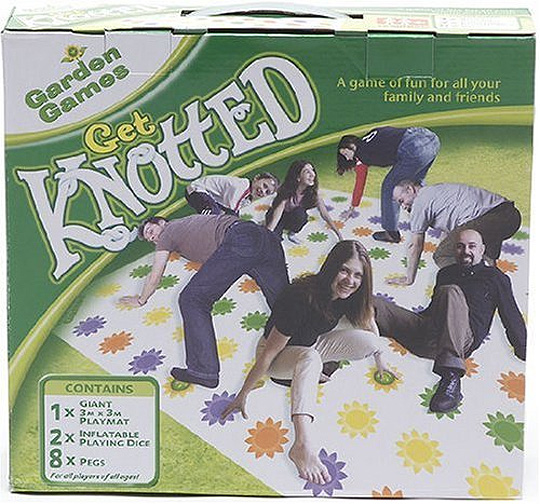 Amazon are selling Get Knotted for £35.36, rather than £41.99 - if you've not heard of Get Knotted before, think Twister but for up to 30 players instead of just a few!
Get Knotted is the sort of game university days are made of; the sort of game that is GREAT when there's a huge gang of you who hang out; the sort of game that's perfect for kids' parties and the sort of game that all Cub, Brownie, Scouts and Girl Guide leaders should have tucked away in their camping activities arsenal.
I wrote about classic Twister late last week - it's such a great game and can you imagine what it would be like playing something similar with up to 30 others?!  I think it would be seriously awesome and absolutely hilarious.
The mat is three meters square and there are two large inflatable dice which will determine which body part must be placed where on the mat.
Here's what a couple of existing owners have to say about Get Knotted:
I bought this product for my daughter's 14th birthday party as something for the kids to do out in the garden. The Twister game is always popular indoors and is a great ice-breaker. The kids were soon screaming with laughter and falling all over each other. They also used it firstly as a picnic mat and then finally poured water on it and used it as a slide (not my idea). A great idea for the summer.

Used for a scouting event It was fantastic and washes easily. A good purchase. :-))))))"So there you go - far too much fun to be had by far too many people.
Happy getting knotted!