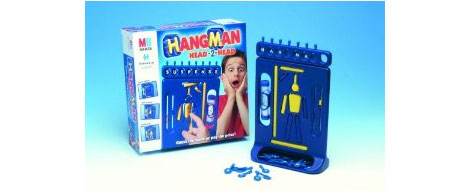 Amazon are selling this Hangman game for £7.99 instead of the rrp, which they say is £19.99.
We have this Hangman game.
I don't know how much it cost as it was given to one of the kids as a Christmas pressie a few years ago, but how it can be £19.99 I do NOT know.
It's a great game though, the kids have had endless hours of fun with it - mind you, I'd be quite happy playing the paper version and that doesn't cost anything at all (I'm assuming you already have a pen/pencil and a piece of paper!).
There are no new twists the original rules of Hangman, that we all grew up with, which I'm very pleased about.
Your opponent thinks of word and you have 11 chances to guess the correct letters; simple.
Each time you guess a wrong letter a little bit more of the hanged man is added/revealed/exposed (call it what you will).
If you want to really spice things up a bit and add a bit of peril to your Hangman game play, then you can use the three-minute timer.
You get one Hangman 'thingy', one word rack and 70 word tiles - a word of warning, keep a close eye on those letters!  You know what kids are like with games and little pieces, before long you'll have one Hangman 'thingy', one word rack and considerably LESS word tiles.
Thanks to Headingley_Lad at HUKD