Connect Four Game £4.99 @ Play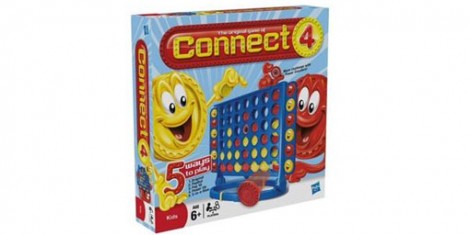 Play are selling the classic Connect Four game for £4.99 instead of £9.99
Connect Four is one of the GREAT classic kids games; I still enjoy playing the odd quick-fire game with the kids now and again.
Did you know that there are only two school weeks left before it's half term already?
Board games were the saviour of my parental sanity when my kids were younger, especially when the school terms seemed to be shorter than the holiday times; what sort of game IS Connect Four anyway? Is it actually a board game...it doesn't have a board *muse*
Whatever it is, I loved playing it as a kid and would always be devestated when I missed a really obvious space I should have blocked, allowing my opponent to win.
This version of Connect Four has had some additional game play elements added to it:
PopOut: PopOut feature helps you get 4-in-a-row by popping a checker out instead of dropping one in
Pop 10: Start with the grid full of checkers and pop them out. If it's part of a 4-in-a-row, you get to keep it. First to keep 10 wins
Power Up: Use the Power Checkers to pop out one of your opponent's checkers or an entire row. Use the 'Go Again' checker to give yourself another turn
5-in-a-Row: For an added challenge use the wings to be the first player to get 5-in-a-row.
Five in a row? Then it wouldn't be Connect Four would it; honestly...some things just aren't sacred.
Thanks to jak19 at HUKD