Chad Valley Tension Tower £4.99 @ Argos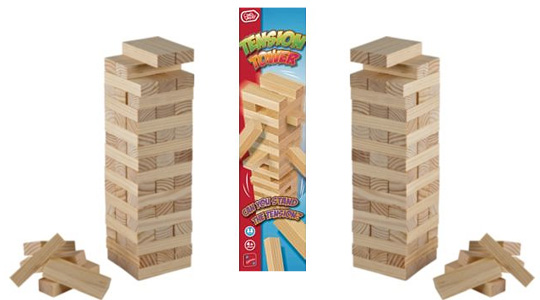 Argos might need to call it the Chad Valley Tension Tower - I call it Jenga.  Potato-'pot-AR-to' if you ask me, but I'm not the game designer or the patent attorney - so for the rest of this post 'Chad Valley Tension Tower' it is and it can be yours for the princely sum of £4.99.
I suppose it's possible you've never played Jenga Chad Valley's Tension Tower before, so here's a quick lesson in 'how to':
Stack the wooden blocks three across, then three across the other way until the tower is complete
Each player must then remove one block at a time
The person who makes the tower fall is the loser
It's a wonderfully simple game and rather awesome - especially after a glass of wine too many after a dinner party when the kids have gone to bed!
Chad Valley Tension Towers are currently out of stock for home delivery - not such a bad thing, it'll save you having to part with an additional £3.95 - so you'll have to arrange to collect it in-store when you're passing your local Argos.
Thanks to Wadjet at HUKD