Boom Boom Balloon Game £5.99 @ Argos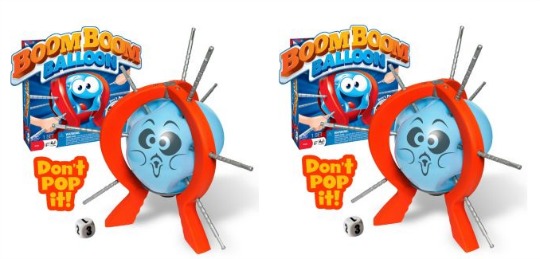 We are always looking for games that we can play altogether as a family. There's always someone who gets bored after two minutes, then the whole thing descends into chaos.
Boom Boom Balloon game promises suspense and I think it looks like it would be fun for everyone. This is only £5.99 at Argos just now. It had a previous price of £8.99, and £17.99 before that. Not a bad price for bring the family together for a giggle.
Everyone hates when a balloon bursts, and this is the idea of the game. Each player must take a shot of clicking in sticks, trying not to pop the balloon. The stick you use is determined by what number you roll on the dice.  I just know I would be in suspense with this game, and I know my kids would be shrieking with excitement.
Now, nothing aggravates me more than games that require costly refills. I had a look, to see if once all the smiley face balloons have been used up, if you can use normal bog standard ones. From what I gather you most certainly can.
Stock levels are good on this, but of course with any deal I would suggest moving quick as things can sell out quickly once we post them.
This game is reserve and collect only from your local Argos store, which is free.