3DS Games from £4.85 Delivered @ Shopto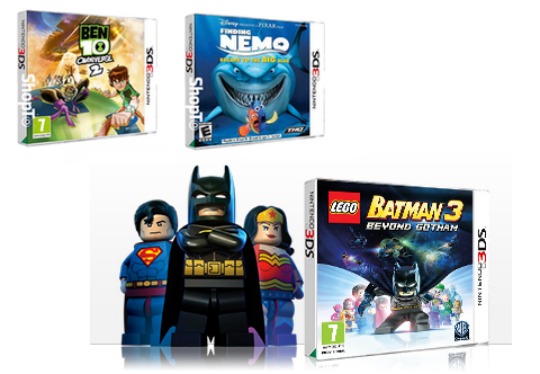 If your children got a Nintendo 3DS or 2DS this Christmas, then there are some more great prices on games at Shopto for them to build up their collection cheaply.
The 3DS games start at just £4.85 and all items have free home delivery included.
For £4.85 you can get Finding Nemo: Escape To The Blue*. This is a good game to get for younger children as it is suitable from age 3. Although the RRP is £29.99 you can get it for much cheaper than that, but I haven't been able to find it as cheap as at Shopto.
Ben 10 Omniverse 2* for the 3DS is £5.86 as a Hot Deal offer, and is considerably cheaper here than anywhere else. It's aimed at the same sort of audience as the TV show as it is certified for ages 7 and above.
Lego Batman 3: Beyond Gotham* is more expensive at £14.86, but again this price is as cheap as I can find it, and for a fairly new game this is a great price. It's also a fantastic game for kids and adults to play, the boys in this house love it!
Some of the others are not reduced by as much, but these three in particular I thought were really great value for 3DS games. They are all in stock at the moment, but they do sell very quickly with these low prices.