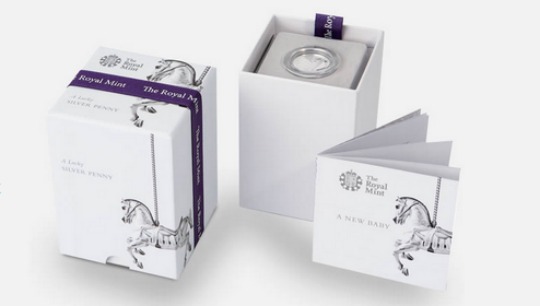 Anyone who is entitled to this freebie is going to be a little busy today, but to celebrate the birth of the Royal Baby earlier today, all babies born today will be given a free Lucky Silver Penny by The Royal Mint. This is in the tradition of silver being given to a new baby for good luck, and this is what their Director has to say about it:
The birth of the new royal baby will be a joyous occasion not just for Their Royal Highnesses The Duke and Duchess of Cambridge but also for the whole nation, as we prepare to celebrate another remarkable milestone in their life journey together. However, it will also be a special day for many mothers and fathers across the country as they too welcome the arrival of their new babies, hence why we wanted to extend this historical moment to them with a unique and timeless gift that can be treasured for years to come.
It will come in a decorative gift box, and it sounds like a beautiful gift as a special memento for your child. There's no big rush to apply as you have 60 days to do so, but there are only 2015 being made. If you have twins or more then each baby will get their own coin.
You just need to fill out the form on the Royal Mint Facebook Page, and you will need to wait until you have the birth certificate to do so.