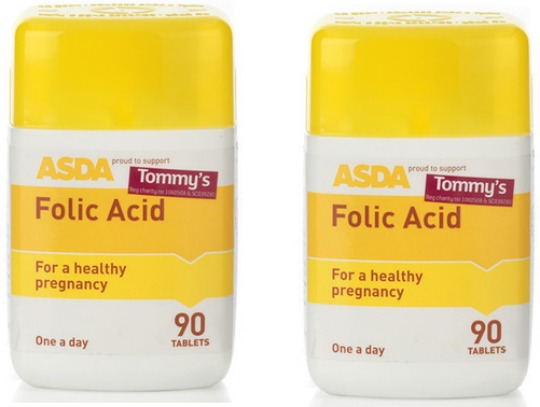 The packs for the Asda Mother and Toddler Club were delivered today and included was a leaflet stating that all mums to be can get free folic acid from their local Asda Pharmacy.
Folic acid is believed to benefit pregnant women in that scientists believe it to be crucial in the development of DNA.
With 180 tablets costing £5.99 from Boots, there's no longer any need to spend any money at all if you can get to an Asda Pharmacy. The pharmacist will give you the dose required but generally it's recommended you take a daily 400 microgram folic acid supplement when you are trying for a baby and for the first 12 weeks of pregnancy.  It should be taken alongside foods that are rich in folic acid and these include leafy green vegetables, orange juice, chickpeas and fortified breakfast cereals.
Of course you can speak to your pharmacist about any concerns you may have regarding folic acid or any other aspect of your pregnancy while you're there. You can even collect your FREE Bounty pack from there and you can sign up for that here.
What do you think?