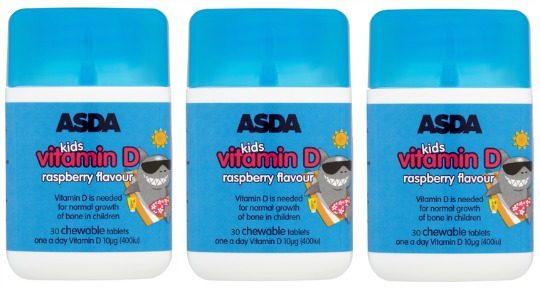 Asda are giving away FREE Chewable Vitamin D Tablets for kids. All you need to do is head down to one of the 225 Asda stores offering these from their instore pharmacies. You will receive thirty chewable raspberry flavoured tablets, which is a months supply.
Vitamin D is very important for the normal growth of bones in a child. Without it, conditions like osteoporosis and rickets can make development complicated.
Here's what Asda have to say:
A daily dose is recommended for children between six months and five years of age to prevent Vitamin D deficiency – and associated diseases such as rickets – throughout their development. A supplement of Vitamin D is also recommended for pregnant and breastfeeding women as they need more, and the elderly whose skin make less Vitamin D.
Stocks are limited to one per customer, so bear that in mind if you have more than one child. I plan on getting these for my eldest as he is the worst for eating and I always panic that he isn't getting enough vitamins in his diet and he likes to sit in darkness on his Xbox avoiding sunlight at all costs.
Thanks to Preperationiskey @ HUKD