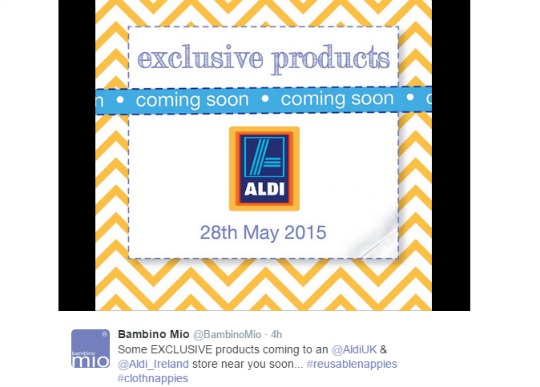 Bambino Mio* have announced today that they will have some exclusive products that will be sold in Aldi stores! They have just teased us with the announcement at the moment, and are not saying what type of their products will be sold in Aldi, but this must be good news for many parents.
Bambino Mio are the biggest selling reusable cloth nappy brand in the country, and with the products being exclusive to Aldi it's being speculated that they will be making a special budget brand, as Aldi stores are all about low prices as well as good quality.
There is no more information on either the Aldi website*, or the Bambino Mio* one at present, but I shouldn't think we will have to wait long. The picture above that has been added to the twitter and facebook pages of Bambino Mio is all they have released! Exclusive products coming 28th May to all Aldi stores in the UK and Ireland.
When we have more information we will let you know.