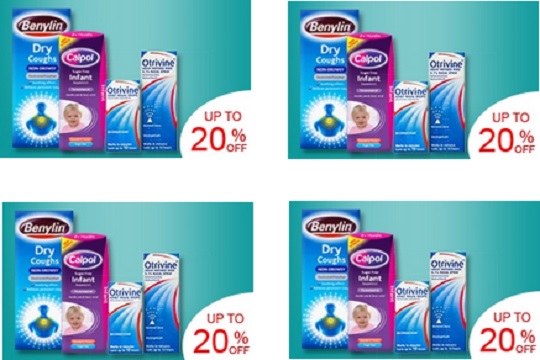 Unfortunately we all end up suffering from a sniffle every now and again, so this is a pretty awesome special offer for those of you who need to stock up on cold and flu essentials. You can get up to 20% off some rather nice fixer uppers for the body.
Click here to get healthy with TheHealthCounter*
The Benylin Dry Cough non-drowsy liquid at 150ml is down to £5.24, the Otrivine Adult metered dose nasal spray at 10ml is down to £3.99 and the Otrivine adult nasal drops are down to £2.99. If these are not quite what you're looking for in a discount, then how about some essentials for you and baby?
Anadin Extra 32 tabs are only £3.29 and Nurofen Express liquid capsules are down to £5.49. In the baby section you'll find some lovely Calpol deals with the Calpol Six sugar0free suspension down to £2.99. You have to kind of hunt about for the offers on the site, but at least you can save some money on the flu.