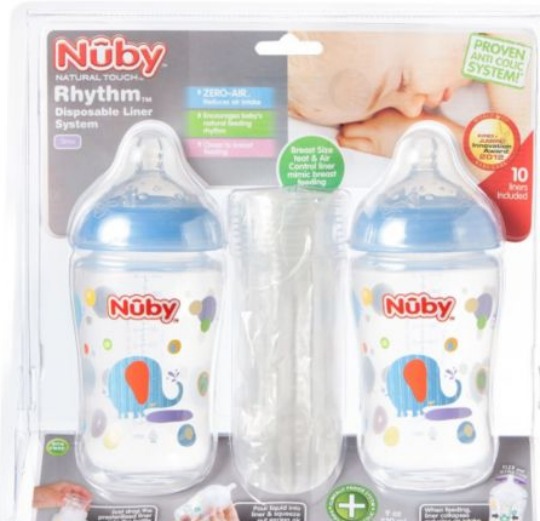 Quick! This is gonna sell out. I have been waiting for these to come back in stock as they really are a bargain. Boots.com are selling these Nuby Natural Rhythm oack of two bottles including ten liners for only £1.62. These normally sell for £6.49! You need to act fast though if you are wanting some.
You may wonder what is so special about these Nuby Rhythm bottles. Let me tell you how these differ from conventional bottles. They work with a disposable liner system to allow your baby to feed in a natural rhythm. This apparently makes it much more like feeding from the breast rather than the bottle. They also claim to reduce colic.
I cannot vouch for these Nuby Rhythm bottles but I know many parents that swear by them for their colicky babies. I say anything is worth a try if your baby is experiencing discomfort with colic.
These Nuby Natural Touch Rhythm bottles are available singularly if you prefer for 87p. I have put the link for both above. If you are in need of baby bottles then these are a very affordable option. You can collect these for £1.95 from your local Boots store (free when spending over £20) or pay £2.95 for delivery.