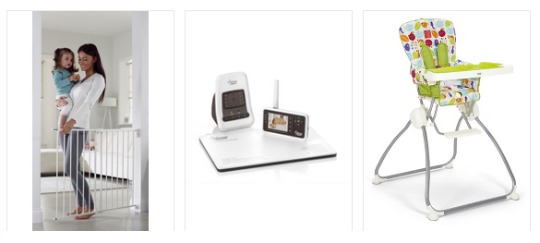 Asda George has a promotion on at the moment that is clearing excess stock form the recent baby event. There are 50 or so varied Baby Bargains for sale online that have an extra 10% taken off them automatically when you add them to your basket, and amongst them are some good prices for baby essentials. Many of them were already reduced, so this makes for even better bargains.
There's a variety of items like baby toys, safety gates, feeding equipment, pushchairs, car seats, bouncers and more. These are some of the best buys I could see, with the extra 10% off already reflected in the quoted price:
These discounts are online only, as we happened to buy one of these items in store as a new baby gift, and the extra 10% was not taken off. Stocks will be limited, and there is no end date specified for the offer by Asda unfortunately, so it looks like a case of 'while stocks last'. I haven't listed the items that you can get cheaper or around the same price elsewhere, just the ones that are by far the best price getting them from Asda with this extra 10% off.
So have you seen anything that's on your list for baby, or for your holidays this year?