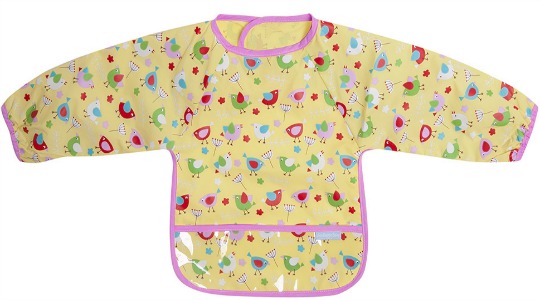 If you have a child, you will totally understand my frustration of when you dress your little darling all pretty or smartly and then they coat themselves in bright orange baby food or the likes. Best thing I have ever learnt as a parent is to buy long sleeved bibs! They cover your child much better than regular round the neck numbers. I have found one at Jojo Maman Bebe and it's reduced to just £2.50 from £8. Would I pay eight pound for a bib? I paid ten for one very similar so £2.50 is a great price. Plus you get FREE delivery on orders from Jojo Maman Bebe.
These should be called stress saver bibs, because they do stop you from freaking out every time baby is in the highchair. This particular Easter Chick one from Jojo Maman Bebe is splashproof.
What about crumbs? Kids make lots of crumbs. This Long Sleeved Bib features a crumb pocket, it won't catch all of the crumbs but does catch a LOT.
The design on this Long Sleeved Bib is very spring like and is ideal for Easter as it's covered in chicks. It's pretty unisex too as it's a good mixture of colours.