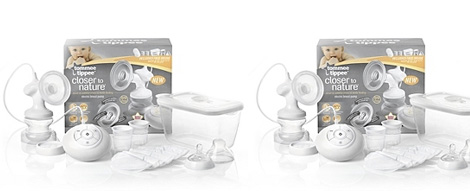 *HAROOOOGA!!* This Closer to Nature electric breast pump has been reduced by £59.99 from £79.99 down to £20 - it's my Deal of the Day (if we had a deal of the week it would be that too!)
I'm guessing that at this price these Closer to Nature electric breast pumps won't stay in stock for long, so if you're in the market for one of these I'd be inclined to grab one now.
All health professionals will tell you that breastfeeding your baby is best and that it encourages bonding, great for mums and their babies, but can leave new dads feeling a bit left out.
Expressing breast milk and allowing dads to feed it to their babies from a bottle, gives THEM the chance to bond with their tiny offspring and also gives  mum some much-needed time off - especially dad does the occasional night shift!
This Closer to Nature electric breast pump comes with everything you need to make this a quick and easy process.
It has 'natural feel expression'  which mimics your child's natural feeding action. Soft silicone cup for maximum comfort and perfect fit and light, low, medium and high settings.
Inside the box you get an Electric Breast Pump, Steriliser Box, 150ml Bottle and teat, one milk storage lid, two milk storage pots and six Closer to Nature breast pads.
Standard delivery is £4.95 or you can collect your Closer to Nature electric breast pump instore for freeeee; hurrah!
Thanks to mike321 over at HUKD!