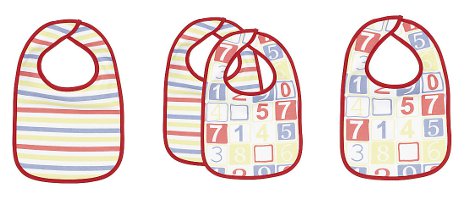 There's a 2-pack of baby bibs on offer at John Lewis at the moment, for £1.50, down from £5.00
Before my daughter was born, everyone was always on about having enough bibs. I really thought babies just came out as these major drooling machines and I actually don't know how many bibs we ended up buying, but there were  certainly more  than twenty, and most of them where exceedingly cute.
Comes along the baby, and she wasn't drooly at all, save for a  couple of days when her back teeth came out, so the majority of those bibs never saw the light of day.  I've heard that we were 'lucky' though, and even now I'm pregnant, I've had a few people ask how many bibs we have again! I don't understand it, but anyway…. If you need to build up your stock, here are some cheapies that should be pretty nice quality, being from John Lewis and all.
The front of these is 100% cotton, the reverse is 80% cotton and 20% polyester, and they are apparently suitable from 3 months of age.  And they're machine washable, which, quite frankly, would be a shocker if they weren't!
Thanks to j8ulia at HUKD