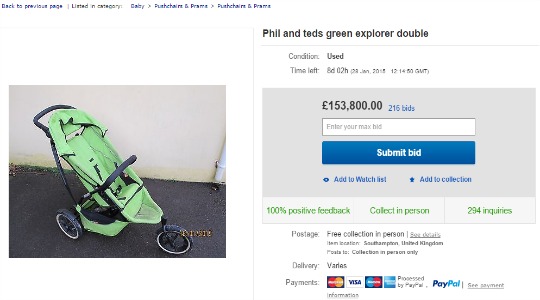 You've read about Joel, the hapless Dad who listed his 'Green Monster' Phil&Teds pushchair on eBay.
Now read the response from Phil&Teds:
An open letter to Joel:
Like yourself, we weren't really expecting internet fame on an average Tuesday, Joel. However with great power comes great responsibility, so we wanted to reach out to you & anyone else with a pushchair that is needing a new home, to look at donating it to our Buggies for Good program (find out more here)

We suspect you like the pushchair a bit more than you let on, given you mention filling the tyres & lubricating parts over the years. Good stuff, Joel. We'd also like to provide you & others some advice for cleaning off those various 'bodily fluids' you mention. See some tips here.

And Joel... we know the parenting life is full of mess & hard work, so do try to keep your own 'fluids' away from your lovely wife if you aren't so fussed on more of that. 

Happy parenting everyone! 

phil&teds
Yep, we think Phil&Teds won that round!