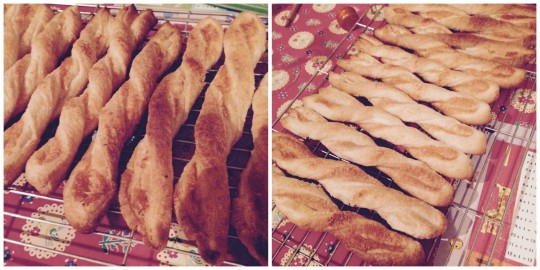 This time last week I was gearing up to run my first half marathon. One week later I was eating home-made cheese straws for breakfast. Whoopsie.
Anyway - having eaten way too many of these bad boys this morning I thought I'd share the recipe with you lovely lot since (a) these are SO straightforward to make that even a blind-folded toddler could rustle them up without much trouble and (b) they keep kids quiet for a remarkably long time in between the fiddly rolling up the straws part followed by the so-quiet-you-could-hear-a-pin-drop scoffing.
So if, like me, you'd really like to find a way to put your feet up for half an hour this weekend then set the kids to work on this little task in the kitchen.
What you'll need:
320g pack of puff pastry (we used the Jus-Rol Puff Pastry sheets from Asda - just £1 right now)
Small packet of grated parmesan, or other cheese of your choice, finely grated
How to make them:
Pre-heat your oven to 190c / 375F / gas mark 5.
Unroll a pastry sheet, sprinkle over a generous amount of Parmesan, then fold in half.
Roll the sheet gently to 'press' the cheese in, then cut into 1cm strips
Twist the strips several times - the more you twist, the lovelier they look.
Pop on a baking sheet and bake in the oven for about 15 minutes or until golden brown.
Eat. All at once for breakfast is not recommended, however.

 
No need to thank me. In fact you might end up cursing me if you eat half a dozen in quick succession, as I've just done...