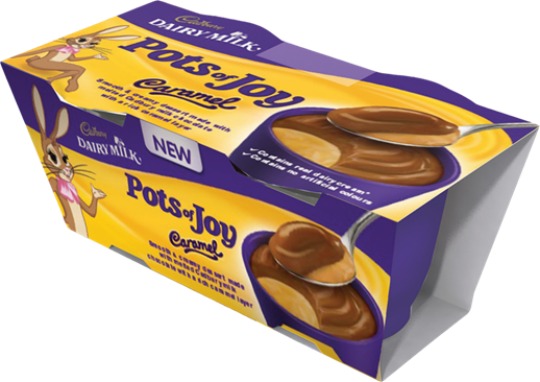 I have terrible news. Brace yourself. Cadbury has unveiled a new range of puddings called Pots of Joy, made from melted Cadbury chocolate. They are completely and utterly addictive and will ruin your life. Wail.
Pots of Joy have been available from Tesco* on a Buy One, Get One Free deal, but as I write this they seem to be out of stock. Which is nothing to do with the fact that I bulk buy as many Pots of Joy as I can whenever I come across them.
Pots of Joy have also been available on a special half price offer in-store at the Co-op (64p for a twin-pack) but once again I can't find any evidence of this online. I've also heard that you can find them in Asda* at £1 for a pack of 4 instead of the usual price of £2.39. Looks like you'll just have to make it your mission to stalk the supermarkets until you find a Pot of Joy of your very own.

They come in three flavours - Caramel, Dairy Milk and Buttons (the white chocolate variety). I was about to say I've only tried the Caramel option but then I remembered that I have a Dairy Milk Pot of Joy stashed in the fridge so bear with me for a sec while I selflessly sample that one too... yep, it's pretty good too. Although not as scrumptious as the Caramel flavour which is literally the nicest chocolate pud I've ever tried.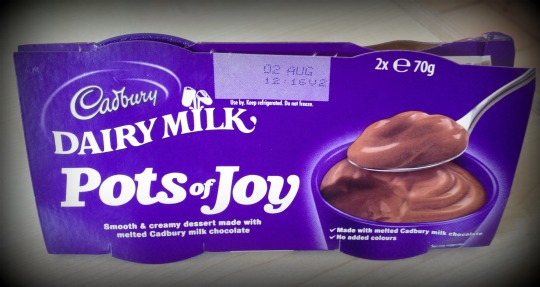 Desserts based on pre-existing chocolate bar brands are usually a disappointment to me, with a chemical-y or artificial after-taste that just doesn't match your fave choc bar flavours. But the caramel Pot of Joy tastes exactly like someone melted down a bar of Cadbury's caramel and found a way to whip it into a smooth, silky pudding. The texture of these puds is like nothing else. Much more luxurious than other Cadbury desserts or chocolate mousses. I dread to think about the calorie content (so I pretty much don't) and the pots are woefully small (70g) for the price (unless you find them on introductory offer prices). But. Have I mentioned that they're ruinously delicious?!