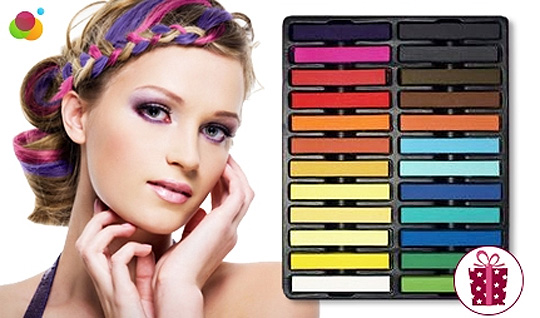 If you're into messing around with your hair or know someone, young or older, who does, then have a quick look at these 24 coloured hair chalks - Lync Me Up are selling them for £10 rather than their usual £49.99.
If you're of a certain age you'll remember that Christmas parties often meant spraying some of you hair with bright lurid hair colour - I have a very vivid recollection of boys in my class at junior school with punked up hair in bright green and pink!
It seems the method of temporary colour application has changed a bit and that chalks are now the way to go - all you have to do is: spray your hair with water, draw on the colours you want to use, then set them with a hair dryer or pair of straighteners, that's all there is to it.  Then, when your party is over or you've had enough of your multicoloured hair.
I have to say they're not my cup of tea, but will make a fab stocking filler for someone and be great for Crimbo and New Year's Eve parties that demand such hair effects.
When I said have a QUICK look though, I meant it - this deal expires at 11.59pm tonight!
Happy hair colouring!