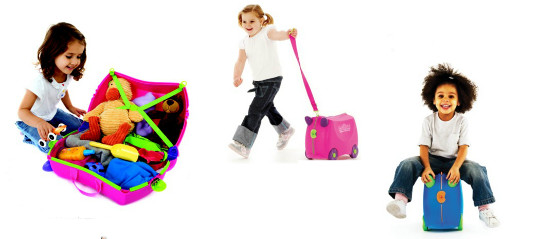 Trunki Trixie or Terrance can be yours for £22.45 from Halfords using the code below, but there are a couple of ifs and buts to bare in mind. Trixie and Terrance were £29.99 but have been reduced to £24.95, saving you £5.04. If you add the code below, you can take another 10% off, making it £22.45. Here's the if and but though - if you're going to collect from Halfords, and not pay delivery charges, or if you're planning on ordering for over £30 and getting free delivery, this is a great deal, saving you £7.05. If you're not, however, you're better off getting it at Amazon, who have price matched for £24.95, but you get free delivery.
Make light work of travel with Trunki*
Discount:10%
Discount Code: AFFBC17
We had a long delay in an airport recently, and we had the baby in a sling, and the toddler rode the Trunki up and down the terminal while we waited for our flight. It was perfect for her not to have to rush around on foot, and it was fantastic for me as I wasn't carrying two about.
The Trunki glides easily on carpet or highly polished tiles, and it can withstand quite a bit of beating and riding. It also makes random passers-by smile, which is always a good thing.
For in-flight purposes it's fantastic as it holds quite a lot of stuff too!
Definitely worth a purchase for frequent travellers and their parents.
Thanks to goonertillidie at HUKD