Le Coq Sportif 5 Piece Luggage Set £8.95 @ Argos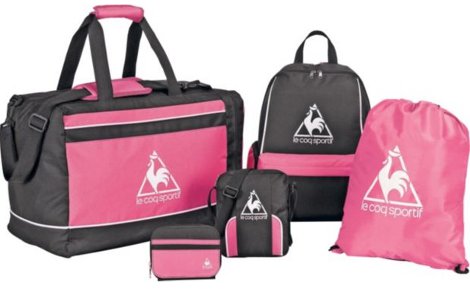 The black and pink Le Coq Sportif 5 piece luggage set is half price at Argos right now at £8.95.
The Le Coq Sportif set consists of a backpack, gym sack, holdall, satchel and wallet, and are all black and pink with the Le Coq logo on.
The backpack has a 14.5 litre capacity, and weighs just over 300g. It has three external pockets, an adjustable carry strap and twin carry handles.
The gym sack has nylon pull cords and only a 1.46l capacity, making it rather small, but probably okay for a change of clothes.
The holdall, on the other hand, has a 54l capacity and according to the reviewers makes a good suitcase or holiday bag. It has one internal pocket and an adjustable shoulder strap and carry handles. Empty it weighs around 600g, meaning it won't impact too much on your luggage allowance.
The final bag, the satchel has one main compartment and two internal pockets. It holds just a little less than the gym sack and is probably more suitable for lunch than anything else!
And of course, the wallet, has one main compartment and two internal pockets and is pretty much wallet sized!
These are available for store pick up or home delivery and those who've bought it seem to think it's good value for money, especially at the reduced rate.
Thanks to shadow1 at HUKD