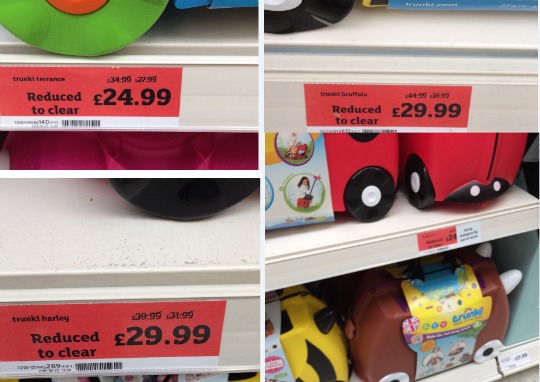 If you are passing a Sainsbury's store it's well worth keeping an eye out for this bargain, as it looks like some stores are selling off their stock of Trunki Ride-On Suitcases! There are price cuts of £10 to £15, with prices now from £24.99, which is a big chunk less than the normal selling price of around £40 to £45!
From the price tickets in the photos we have seen these are not just reductions in one store, but 'Reduced To Clear' reductions in stores that are no longer going to be stocking these items.
The Trunki suitcases are still full price online, so the reductions will only be in stores which are selling them off, but definitely worth a look at these prices I'd say! Here's what has been found in the store in Castlepoint in Bournemouth today:
Gruffalo Trunki - was £44.99, now £29.99
Trunki Terrance - was £34.99, now £24.99
Trunki Harley - was £39.99, now £29.99
Trunki Trixie - was £34.99, now £24.99
You can click here for Trunkis online at Sainsbury's so that you can see which ones have been spotted, but these reductions are only in store. Keep an eye open, and let us know if you manage to find some! Good Luck!
Thanks Becky.