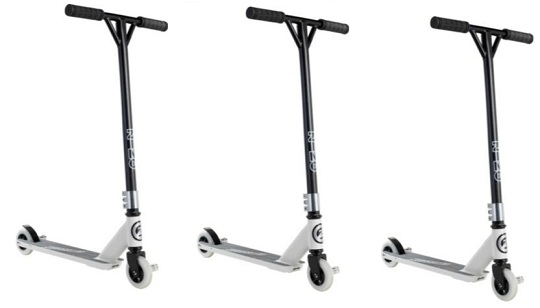 Zoom off with this awesome scooter deal from Argos. The Zinc Outbrake Scooter was originally £119.99 but it's now been reduced to a lovely £59.99, that's half the price, fabulous!
The funky Zinc Outbrake Scooter has a load of features. It has reinforced aircraft (cool) graded aluminium, pro grips and 100mm Alloy Core 85A PU Wheels (whatever that means but it sounds cool). A tri clamp (I also have no idea what that is but I'm sure the scooter fans out there will tell you it's something important) and a fender brake. There are front and rear stunt pegs and two puncture proof wheels (convenient) and lastly the anti-slip printed footplate, easy grip handles and rear footbrake will keep you looking super cool.
It's lightweight, easy to put together and can take a maximum weight of 100kg so you can give it a try too mum. I'd go on for hours about how amazing this scooter is but I don't really think it's necessary at 50% off!