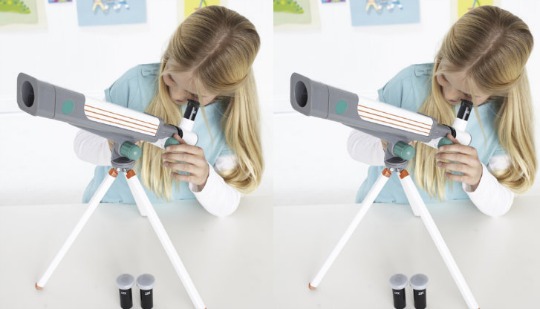 My eldest son has moaned for a good while about wanting a telescope. On research they were so costly. I know it doesn't have to be too fancy for him but seriously, some of them cost the earth.
Early Learning Centre have slashed the price of their telescope by £14, making it a tiny £6. I would think this is the cheapest I will find that is actually a functioning one.
Toys likes this are great for satisfying children's thirst for knowledge. Once they reach school age, the projects and topics they do become a fascination. My eldest James, is a born again Christian following learning about God at school. That's what children are like when they are at such an impressionable age. As a parent, I try to encourage any kind of learning, as I am sure most of you do too.
This telescope can be used to explore the night's sky. It is suitable from five years old and like I said would suit those that are ready to learn about things like astronomy.
With the metal telescope comes three different strength of eyepieces. A 20x piece, 40x piece and a 60x piece. Which is fine to look at the moon and stars on a clear night. If you fancy putting it at a window in your child's bedroom then, it comes with a 25cm high tripod.
Collect free from your local Early Learning Centre or it's £2.95 if you would rather get it delivered.