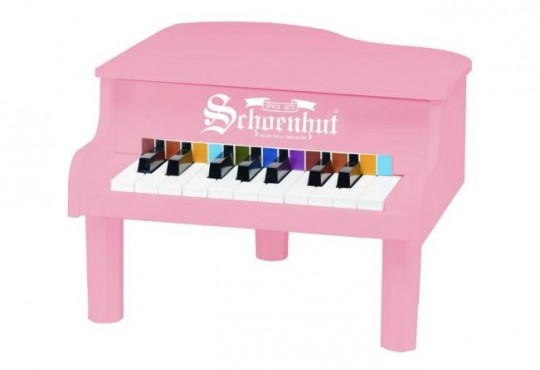 Amazon has a sale on kids' musical instruments at the moment, and aside from a super cute harp there's a whole array of mini pianos for your musical maestroes too. This particular one is a Schoenut 18 Key Mini Grand Piano, on sale at over 60% off for £31.32 instead of £89.99.
I can't quite figure out if this is wood or plastic, but at about 3kg, I'm guessing wood. Which is nice. I was so disappointed when we bought a beautiful looking baby grand piano and found it to be flimsy plastic on arrival. With small people, wood is better as it is less likely to topple over and be dragged around by one leg if it's a bit heavier!
The Schoenhut's smallest piano is a a good choice for introducing a very young child to the world of music, if the reviews are anything to go by.
For beginning musicians, this piano promotes eye-hand coordination and develops musical creativity. Lovely chime-like tones are created by small hammers striking metal rods, the sound that makes Schoenhut toy pianos charming and unique. The one-and one-half-octave span of full-width keys provides a good foundation for the transition to a larger model.
They say it's a good babyshower gift, but I can just imagine it being the kind of thing someone with no children gives you at a baby shower, while you roll your eyes and think of all the useful things your new born could have done with. Maybe save it for a first birthday, I say. Either way, it does look lovely.