Read At Home Biff, Chip & Kipper Collection £25 @ The Book People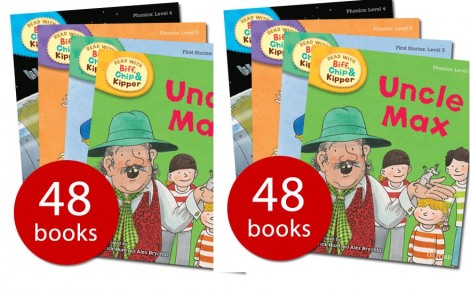 Now this is a fantastic deal for any parent with a tot in the first years of school. Utterly brilliant, in fact. Here you have 48 books in the Read at Home series that tells the stories of Biff, Chip and Kipper in a series that will expand your child's literacy exponentially.
This is one deal that I'm definitely going to be taking advantage of. 48 books for only £25 and all of them seriously brilliant for child education. Originally selling for £243.51, you are saving a hefty £218.51 off the original price. And there is free delivery on all orders over £25!
Now I will never understand why they called the girl of the series Biff. It seems unusually cruel, but that's pretty much what she is called throughout. You will also find a hidden pair of glasses either on every page, or on one of the pages in each book. I love that sort of thing. I hunt the ducks in the Usborne series…
Thanks to fish1234567 at HUKD!