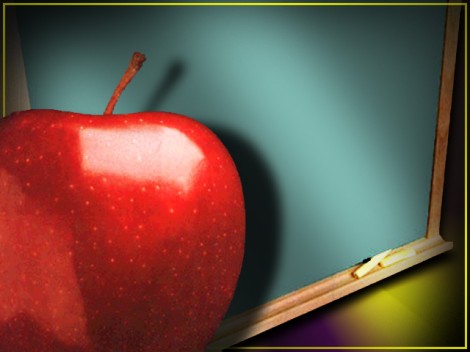 My daughter is about to finish her first year of school and today I saw parents coming in with gifts for the teachers. Now, back when I was a kid we did give something to the teacher but it never came in a fancy gift bag that screamed, "Expensive!!"
I was momentarily stunned. Did this mean that now I had to go out and spend a fortune on my child's teachers? According to an article in the Sunday Times last year, a survey by the Association of Teachers and Lecturers said that present-giving has gotten a bit out of hand. Some of the gifts listed included designer handbags and I know of one mum who saw a teacher receive a diamond bracelet!
Like birthday party goody bags, it appears that the simple apple to say thanks has been hit with the competitive madness that seems to overtake some people. While I am deeply appreciative of the time and effort my child's teachers have put into her education, there is no way that I'm going to fork out a fortune to say thanks.
The trend for extravagant end of term gifts was cited by online retailer Woolworths.co.uk.
A poll commissioned by the family superstore showed that over half of the nation's parents (53.35%) will fork out on a gift for a teacher and will spend, on average, £7.50 per gift which, compared to the cost of a 50p apple, is 15 times as much as the traditional gift. For an average class of 30, teachers will be taking home presents to the value of £225.00 tomorrow.
There is some good news, though. The same article said that teachers were actually really appreciative of something homemade, something that had time and effort put into it rather than a gift that made them faint.  So here are some lovely ideas that you can use to give your child's teacher a symbol of appreciation without breaking the bank.
The recipe behemoth, Good To Know, has a stunning recipe for Flower Biscuits that will take you about 30 mins from start to finish and use simple ingredients. You can also rope your child into the baking experience by getting them to decorate the biscuits and help you to cut them out. I love this recipe and have to tell you that it is virtually idiot proof. How do I know this? I made them without killing them – result!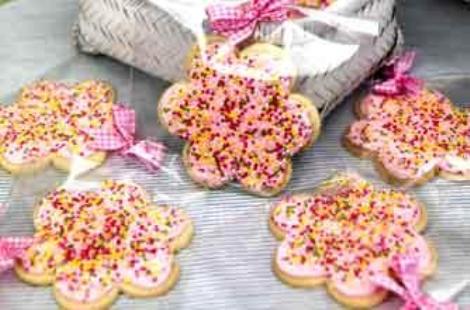 Create a calendar! How about designing and making a school year calendar with your child's help? You won't need a lot of extras and the cost of nabbing some bits and pieces won't be too painful to endure. And your children will have loads of fun helping to make it. Print out the calendar pages you like from here (this is an ace resource as you can choose exactly when the calendar starts and ends), get your child to draw a picture for each month – it can be a themed image or just something that makes them think of teacher – then go and get it bound at a local copy shop.
Binding it won't cost too much and I'm willing to bet that your child's teachers will love it as much as mine did. The little pictures for each month looked so cute and really added that personal touch. It may not have looked glossy and chic but it was clear that hours of work went into it.
Create a treasure box. This is a particularly brilliant idea and I wish I could claim it as my own. I was actually told about this by a lady on the train yesterday. She overheard my panicked conversation with a friend about how I hadn't bought anything and how much should I spend. She was in her sixties and had put five kids through school. To save money she'd created gift boxes that were simple, yet cost effective and fun.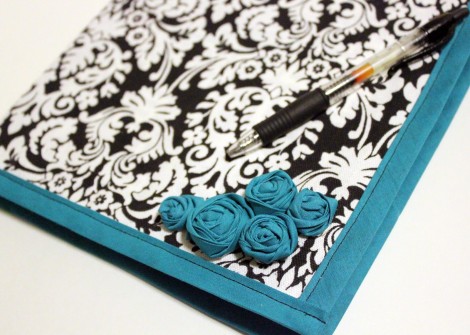 You'll need to get your hands on some decently sized cardboard boxes. Not the gigantic ones you use to move house with, of course, but rather neat ones that won't look empty after you've put a few things inside. Then decorate your own wrapping paper – you can either use white roll or brown roll here – with paintings, feet, hands and stamps. Take items like the biscuits you baked above, wrap them, and pop them into your box.
I know this is going to sound terrible, but I used lovely, new products that had been given as gifts and I had never used. They were just sitting in my toiletry cupboard gathering dust so they made cute little additions to the treasure trove. Add in pictures made by the kids, homemade biscuits or jellies, and some of the other ideas below.
While I was looking online for ideas I found this utterly stunning tutorial to make a composition book cover that is incredibly easy and looks amazing. You can even use old fabric lying around your home and use the same tutorial to make a Kindle or iPad cover.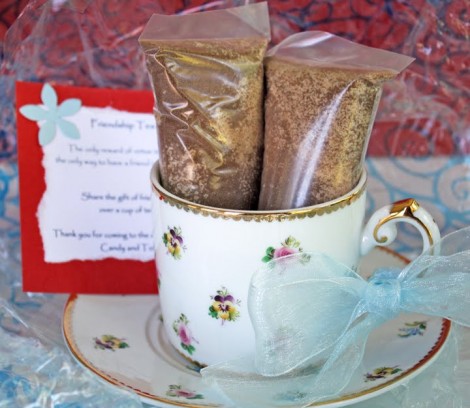 Finally, the tutorial and teacher gift idea that completely blew me away and had me racing to get the ingredients, was this Friendship Tea. You can get gorgeous cups and saucers from a local charity shop and replace the ingredients with any tea you like.
So there you have it, a few simple ideas to make your own end of term gifts that won't cost much but will definitely be appreciated.