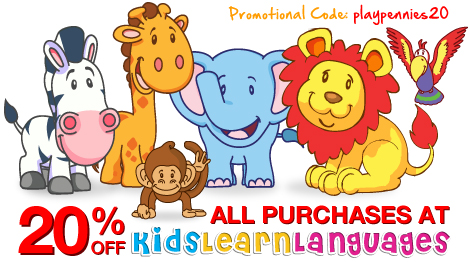 Kids Learn Languages are a very popular brand of DVDs that have been designed specifically to help children learn different languages. Research has shown that young children literally absorb these new sounds like a sponge so it is the best time to get them learning a new language!
Kids Learn Languages come in a bunch of different flavours. You can teach your kids French, Spanish, Asian or just plain English. The series is very well priced with DVDs starting out from £10.99 and offering your children a fantastic leg up on the way to school.
Discount: 20%
Promotional code: playpennies20
Expires: 30 June 2011
The products are aimed at pre-school children – so up until the age of six – and you can help them get to grips with words and numbers. Or you could nab yourself a gift set that has Simple Words, Numbers & Colours, Nursery Rhymes and musical instruments included.
The teaching methodology used for this series is based on associative learning as children learn by watching the onscreen images and hearing the words associated with them. Not only will it help them to learn something new, but they will also improve their English.
It's a stunning gift and at great prices. Enjoy our PlayPennies exclusive discount at Kids Learn Languages!