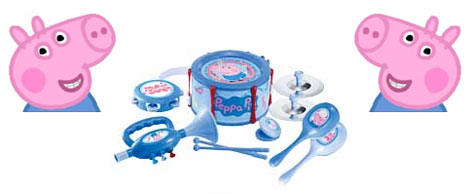 Argos have a half price deal on this Peppa Pig George's Band Set, bringing it down to a wallet-friendly £7.99
I'm sorry, I've broken the unwritten 'us parents must stick together' code and am posting a deal that involves drums.
I appreciate that all the drumming, tambourine banging, trumpetting and vigourous maraca shaking that will be going on in your house Christmas day, if you buy this Peppa Pig George's Band Set, might notbe  filling you with joy, I really do, but just think how THRILLED your little musician will be!
Did I forget to mention the cymbols and castanets that also make up this Peppa Pig George's Band Set...?
Oh well I've done it now - just to recap, here's what you get for your £7.99:
Drum
Maracas
Tambourine
Trumpet
Cymbols
Castanets (ole!)
All of them are lovely and blue, so ideal for boy Peppa Pig fans and great for any budding Big Band musicians - you'll thank  me if they turn out to be one of the great musicians of their generation, because one year they'd got a Peppa Pig George's Band Set for Christmas!
It's available for home delivery, but at £5.95 I'd rather go and collect it for free from my nearest Argos that has it in stock.
Thanks to kassy2005 at HUKD