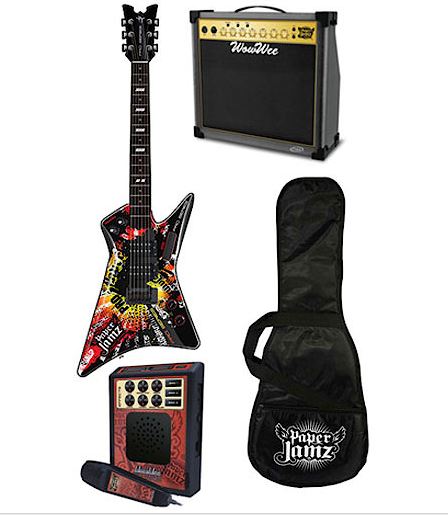 The Toyshop has a pretty awesome offer on the Paper Jamz Pro Value Pack music set. It's RRP £104.99C, but with a whopping £75 off, is reduced to only £29.99 and has got everything you need to start jamming and singing along to some awesome tunes. I'm pretty sure you can find the individual items for less than the RRP, but even so, current price is a good one.
Inside you'll find a Paper Jamz rock guitar, amp speaker, microphone and guitar gig bag.
Great for children aged eight and up, you'll need 4 x AAA batteries and 8 x AA batteries to get this set going.
The Paper Jamz Pro Guitar 1 has two built-in songs, or download MP3 tracks from your computer onto the guitar to play along with. You can play in three modes, Perfect Play keeps you pitch perfect as long as you're strumming, Rhythm Mode puts you in charge of the song's rhythm, Freestyle lets you go solo and create your own songs.
Paper Jamz Pro Microphone lets you clip the working amplifier to your belt, turn on the microphone, and get ready to take centre stage. Again, there are two pre-loaded songs, and you can download more from your computer. The Pro Microphone adds effects and auto-tuning to your voice in real time, so you'll always sound pitch perfect when you sing.
Paper Jamz and Speaker - turn it up to eleven and rock out louder with the Paper Jamz Amp Speaker. This light weight cardboard speaker plugs into your Paper Jamz guitars and drum sets, to help you turn up the volume while you're playing. The amp has a built-in handle, making it easy to take your amp out with you and rock out anywhere.
It also  comes with the Paper Jamz Guitar Gig Bag.
Perfect for summer jam sessions for little people.