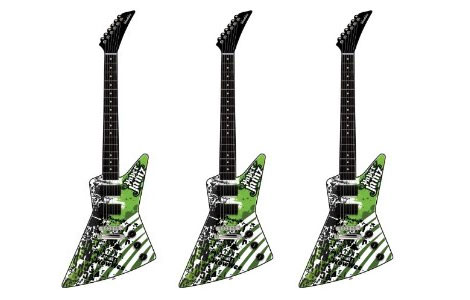 Amazon are, for the time being at least, selling this Paper Jamz guitar for £9.09 instead of the usual £19.90.
I'm SO intrigued by this Paper Jamz guitar especially for less than a tenner; I'm not sure I'd be so intrigued for £20 though.
My husband plays both the acoustic and electric guitar and neither of them were cheap.  If your child thinks they could be a budding rockstar then this could be a very cost effective way of finding out if they have a bit of Stevie Ray Vaughan about them, or whether their desire to be a rockstar was just a passing phase.
Either way, I think we can probably guarantee that, whether or not they're destined to be the next guitar legend, playing with a Paper Jamz guitar is going to provide a fair few hours of fun and hilarity, especially if your guitar playing is as 'good' as mine.
It's just 3mm thick and is all possible due to Active Graphics tech' which allows you to make music just by touching the surface.
There are three play modes for you to choose from: Perfect Play - play any one of three integrated songs by strumming, Rhythm Play - where you use your skills to play like the real guitarist in time with the same three  songs and Freestyle Play - where you can use the majors, minors and sevenths to compose your own hits.
This Paper Jamz Guitar also has a built-in speaker with volume control and can be plugged into a Paper Jamz amplifier too; awesome.
Thanks to sarah2004 t HUKD