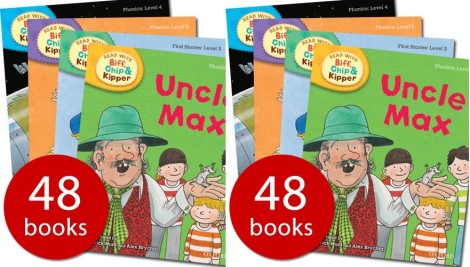 I have written about this deal before as it is so darn good but the stock was sold out pretty fast and quite a few people didn't get a chance to take advantage of it. Luckily they have more stock and the deal is back on for a back to school set that totally rocks. Only £25 for the entire Oxford Reading Tree collection is a bargain.
The Read at Home series is superb for teaching your children all about word recognition, reading and spelling. Each level has been carefully constructed to make the most of your child's level of development and to challenge them in their learning.
I bought this set last time we saw the offer and my daughter loves it. I caught her curled up in a little ball on the sofa, books all around her, reading happily to herself. The stories enchant her and make me feel like she is really excited about reading. Oh, and we love trying to find the hidden items in each book.
Thanks to supernova at HUKD!