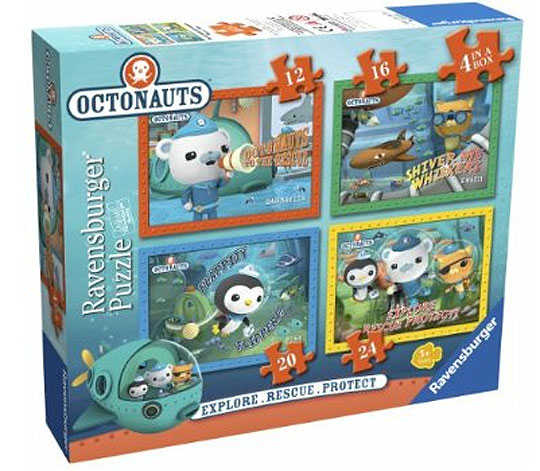 Amazon are selling this 4-in-1 Octonauts jigsaw puzzle for £3.73, rather than its full £5.99 price.
You won't have to have been a PlayPennies reader for long to have realised I'm a big fan of jigsaw puzzles - I write about them pretty often and, I know, wax lyrical about them every time.  They deserve such praise though - in a children's toy world full of battery-eating, light-flashing, bell-whistling toys the humble jigsaw puzzle still reigns supreme as far as I'm concerned.
Where else are you going to find a toy so cheap, that doesn't insult the senses with their constant noise, or the wallet with constant battery replacement and offers all the development of pattern recognition, problem solving, sorting and fine motor skills, along with the incredible sense of satisfaction when that last piece fits into place?
Just in case you don't know anything about the Octonauts who star in the pictures of this 4-in-1 puzzle, here's a quick lesson for you...
The Octonauts is a TV series on cBeebies and features an eight member gang of deep sea explorers.
Captain Barnacles is a polar bear and the leader of the Octonauts crew, Kwazzi Kitten has a mysterious pirate past, Peso Penguin is the Octonauts medic and then there's Daschi Dog, Shellington Sea Otter, Tweak Bunny – the engineer – Professor Inkling Octopus and Tunip the Vegimal.
The four puzzles have 12, 16, 20 and 24 piece puzzles and all measure 19 x 14cm.
Thanks to wishihadadonkey at HUKD