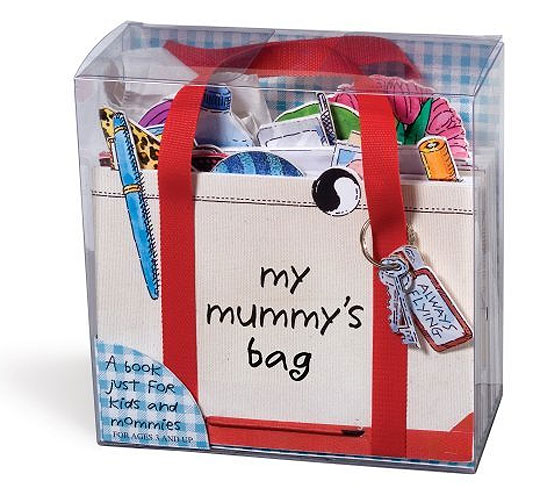 OHHHH this My Mummy's Bag board book looks so amazing, I'm feeling rather miffed that I don't have anyone I can buy it for!  It's one of those things that you see and just want to buy because it looks so lovely.
The other thing that's rather lovely about this My Mummy's Bag board book - for the moment, at least - is the price: Amazon have reduced it from £14.99 down to £8.84.
These are the sort of books that spark off a lifelong love of reading - they're different, they're engaging, they're interesting and I can't imagine any child not loving it to pieces.  It's a die-cut book, so it forms the shape of 'mum's bag' with various of her bag paraphernalia poking out of the top of it.
It is, in fact, jam packed full of all the usual mummy things, including: glasses, address book, lunch, change purse with coins, extra pair of shoes, flowers, photo of her child, and a laptop.
The reviews are excellent and just in case you thought it was only me who waxes lyrical about My Mummy's Bag, here are what some others have to say about it:
My toddler and I love this book. Dont be discouraged by the age recommendation, my little girl is 21 months old and loves this book. She carries it around like a bag, and goes through the pages time after time. I can not commend the author enough - sheer brilliance. Just wish i could get a Dads briefcase.

This 'book' is so much more than that. It's a story, a puzzle, a toy, it's lots of things. I bought this after reading the other positive reviews and it does not disappoint. It's really a very unusual and clever book. The attention to detail is fantastic. Each little tiny thing to read or play with from the little 'laptop' with the pear logo (made us laugh) and the tiny 'mommy's credit card' and the dangly keys on the handle.

It's really sturdy and well put together and my nearly 4 year old daughter has loved carrying it around. It's great for church or sitting in the doctor's surgery to help pass the time. She looks at every little thing and opens all the little doors over and over. I think this could quite easily appeal to a larger age range. Would now love to get the other books in this set.

Loads of interest for small hands, several ways to play alone or with a grown-up. Great for taking out with you so small person can copy Mummy, even down to getting the laptop out! 
Thanks to lilliesmummy11 at HUKD