Mr Men Complete Collection 50 Books £30 @ The Book People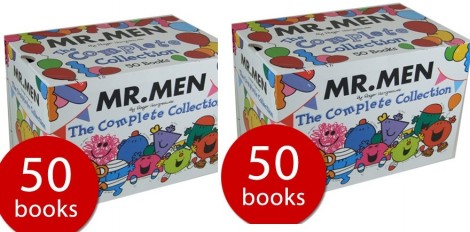 The Mr Men Complete Book Collection has been marked down from the usual retail price of £125 to only £30, a saving of £95. You can also get £3 off and the books delivered for free using the voucher code below.
The Mr Men books are timeless classics that enchanted us when we were kids and are amazing our kids today. The idea behind them is utterly genius which is why they are still so darn popular. Who doesn't feel sorry for Mr Bump, or want to tell Mr Grumpy to shut up?
The Mr Men collection includes 50 books in the series – old favourites and new additions too. The new book Mr Nobody is included in the set too. While the price of £30 is still quite high, this is a great investment for your kids, especially if you don't own the series yet.
And, if you use the voucher code BOOKSAVE20 then you can get money off the deal, and the code UAR040 will get you free delivery until 28 Feb.
Thanks to shazar at HUKD!