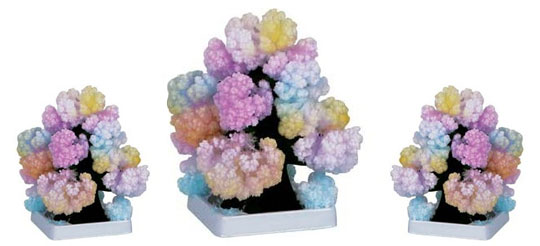 If you have a little chemisty boffin in your family and you're looking for something a little different to fill their stocking with, then you might want to have a little peek at this Magic Tree for £3.89 over at Amazon
My daughter was given a set of these years ago and we had such fun with them; the process is very simple and the results are rather spectacular - all you have to do is stand the cardboard tree in the little tray provided, pour in the special liquid and watch as fabulous crystals grow on the Magic Tree over the next few hours.
We took photographs of our Magic Tree crystal formations every hour and then put them side-by-side in photoshop to see how much they changed from start to finish - we can be really geeky like that.
The Magic Tree isn't huge, just 10cms, and if you're careful it can be kept for quite a while afterwards.  Things like this Magic Tree really appeal to me at Christmas, they offer a chance for a little bit of learning, are fun to do and something a little out of the ordinary.
Here's what a reviewer on Amazon had to say about their Magic Tree...
"Bought as a stocking filler for my 7 year old - easy to set up - gives good fast results (potassium phosphate is the magic liquid)- even my 5 year old kept returning at regular intervals and the "WOW look at it NOW!" comments kept coming. The tree took about 6-7 hours before it was fully formed."
Thanks to movva at HUKD