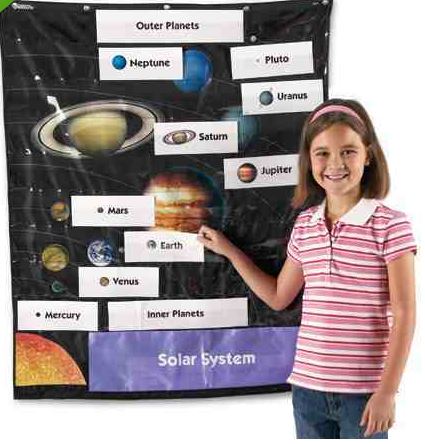 The Learning Resources Solar System Pocket Chart is £9.59 at Amazon, reduced from £31.95. The only other place I can find it at is eBay where it's £16.99, so Amazon's is the best price for this learning resource.
The Pocket Chart Solar System from Learning Resources is a flame-retardant nylon chart for use with units on Earth and space science concepts for 8 - 11 year olds. It's good also for introducing planet names, order and characteristics, which could e a really good visual aid for home.
The Solar System Pocket Chart features orbit lines to introduce discussions on rotation and revolution. It includes 72 self-checking, write-on/wipe-off cards with photographic imagines, facts, definitions and solar system words and an activity guide.
But anyway, none of that makes this really cool. It's the fact that it's space, on a wall. That's pretty cool. Who needs paintings?