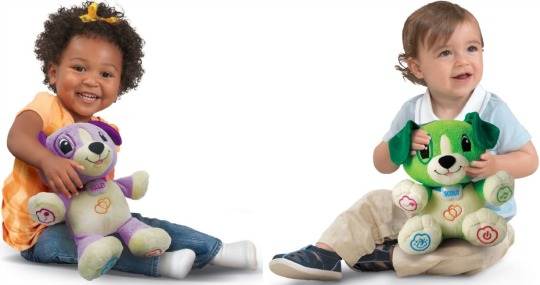 These are normally around the £20 mark but Tesco have them reduced to £10 and looks like Amazon have price matched. Where you buy from will depend on if you have any Clubcard vouchers on your account you could "Boost." If you do, it's Tesco Direct, as it would be a £5 voucher for either, if you don't you're better going for Amazon with the free home delivery.
I don't think I've met many (any?) little ones that don't love Scout. I'm not exactly sure what the universal appeal is, I guess he's colourful and cute but nearly all the kids I know just adore him.
You can download your child's name and favourite things right onto Scout and then press it's paws for lullabies, learning songs and activities. He will then talk your tot through a range of cool games that will "inspire, educate and encourage them."
Parents can connect to the online LeapFrog Learning Path so they can download extra activities and customise the learning experience. Scout and Violet are both recommended and safe to use for kids of 6 months and over.
They do take 3 X AA batteries but both come with these included initially.
If you're buying from Amazon, home delivery is automatically free as you're spending over £10, while if you're using those Clubcard vouchers and buying from Tesco Direct, while store collection is free, home delivery will cost you £3.