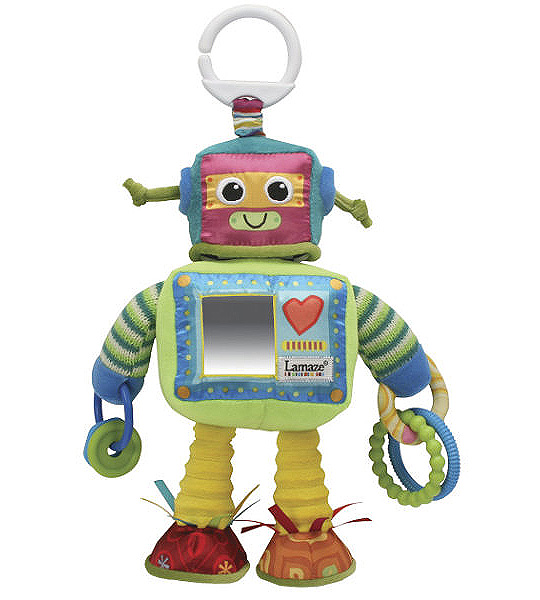 If you're a Lamaze toy fan then get yourself over to Mothercare and pick up a Lamaze Rusty the Robot for £4.39 instead of £10.99.
I've written about that many Lamaze toys that I'm not sure what else I can tell you without running the risk of repeating myself!  My mum bought my youngest son a Lamaze Octotunes toy for his first Christmas, we fell in love with all things Lamaze from that moment on.
Lamaze toys have been developed to encourage play and stimulate the senses in young babies with their bright colours and different textures. Rusty comes with two sides of play: his ratcheting head allows your little one to mix and match his body with his head.
He also features a crinkle, ribbons sprouting from his robot boots, and he holds clanking rings in his hands. There are also busy beads and a discovery mirror looking out from his chest.
Rusty has a connecting ring too, so you can attach him to a stroller, changing bag, play mat, or pretty much anything that has a loop or ring.
You can arrange to collect your Lamaze Rusty the Robot for free from your local Mothercare store, or you can, if you really want to, pay an additonal £2.95 and have then deliver it to you for free (although with all the snow around at the moment, goodness knows when that will be!).
Thanks to jaxy11 at HUKD