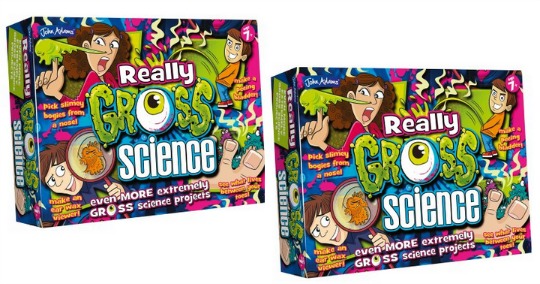 This John Adams set, Really Gross Science is very popular among friend's of my eight year old. This retails at around £17 elsewhere. Get it for only £6.49 at Amazon. It's one of those toys that parents hate by children will LOVE. My son is dying for it, and at this price I don't mind getting him it. No way, was I going to pay over £15 for it.
This Really Gross Science set is never off of the adverts on Cartoon Network. In the box your get, a funnel, cornflour (eek), Ear mould, Ear wax viewer, Bladder model, glue, Foot mould, cotton buds, fine sand, Nose mould, gelatin powder and much more. thankfully, it includes an instruction manual.
This sounds messy, but I guess if it gets little ones interested in science, Biology in particular, then that surely can't be a bad thing. I think that you can learn how a bladder urinates and how a nose makes bogeys.
This John Adams Really Gross Science set is below the £10 threshold for FREE Super Saver delivery from Amazon. Why not buy two and use the MCARD5OFF Amazon promo code at the checkout and get two for £7.98 and FREE delivery?