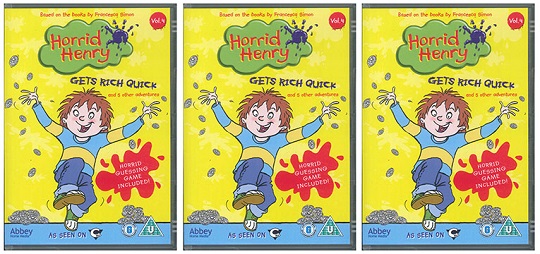 Save £7.00 on this cool Horrid Henry DVD. Horrid Henry Gets Rich Quick normally retails for £9.99 but you can get it from The Works for £2 .99 at the moment, awesome.
With this cool deal from The Works you'll be getting Horrid Henry Gets Rich Quick and five other adventures. Horrid Henry is back causing mayhem in this latest DVD from the hit CITV series Horrid Henry, based on the bestselling books by Francesca Simon. In this hilarious collection of episodes Horrid Henry travels in time, turns detective and even tries being perfect like Peter for a day but Henry's cunning plans don't always turn out as he intends them to.
I keep getting super excited about spring and summer being on the way but sadly they're not here yet and in the meantime, while the weather is foul, it's difficult finding things to keep the kids entertained. While I'm not a big fan of plonking them in front of the TV for hours to keep them entertained sometimes you need to and having a good kid's DVD on hand is always useful.